Electrical Services in NJ & PA
Trust Your Electric With the Experts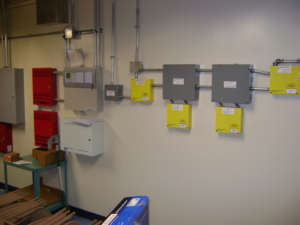 There's a lot at stake with electrical work. In order to keep everyone in your building safe, you need a secure, reliable electrical system.
When it's a job that can't be left to just anyone, leave it to the trained and experienced professionals at Electri-Tech Inc.
Each of our services prioritizes safety. We also work logically and efficiently to help you save money wherever possible. But rest assured, we never cut corners. Instead, we work with your budget and specificities to deliver trusted electrical service you can count on.
Our electrical services include:
Discover the Difference of Electri-Tech
It takes an expert to provide consistent, high-quality electrical service. Installing and improving electrical systems since 1989, the experts at Electri-Tech are ready to keep your business moving forward.
Request a quote today for your upcoming project. Or, to connect with our team, fill out our online form or call Electri-Tech at 609.476.0822.